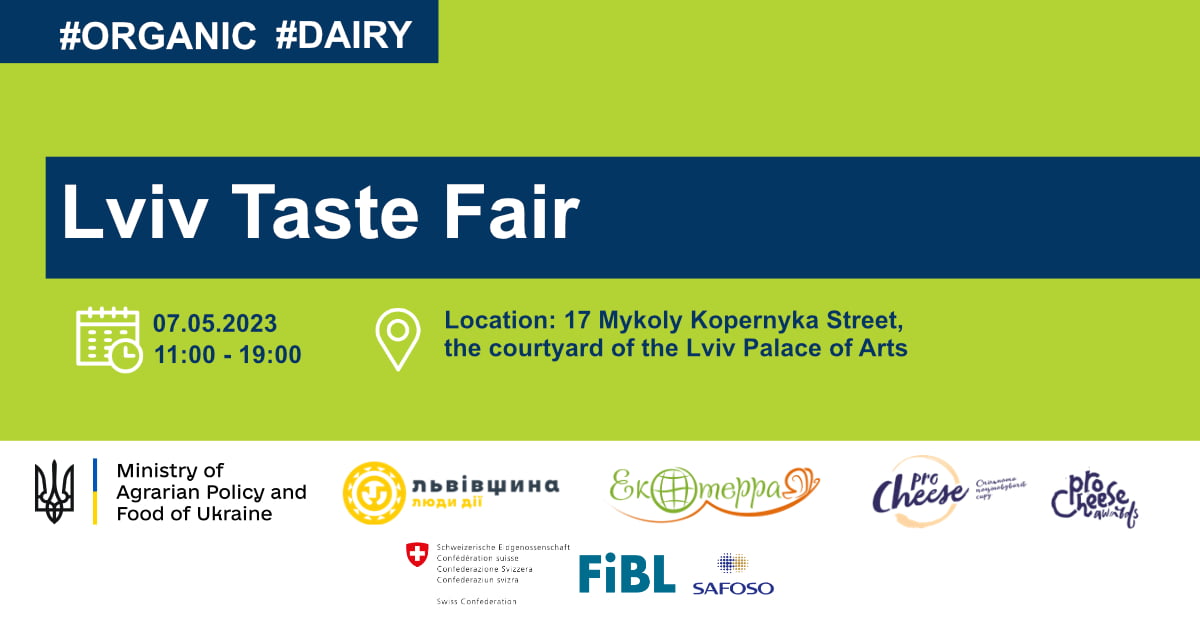 Lviv region invites to a fair of organic, craft dairy, and local products
We invite you to visit Lviv Taste Fair will take place on May 7, 2023 (Sunday) in Lviv.
The purpose of the event is to support small and medium producers of organic certified products, cheese makers, and local craft producers. Such a trade capacity building initiative will bring together producers from the organic and dairy sectors and key QFTP's partners.
At the fair, the products of 50 producers will be presented: honey, teas, juices, cheeses and other dairy products, lozenges, cereals, oil, jams, meat products, and others.
The event will introduce Lviv residents and city guests to producers and processors of certified organic products from different parts of Ukraine.
The fair will also host activities from the ProCheese connoisseur community. Visitors of the event will be able to get to know the winning cheeses of the international cheese competition World Cheese Awards and the national competition of Ukrainian cheeses and cheesemongers ProCheese Awards. As well as to take part in open workshops, tastings, and cheese-themed quizzes with tasty prizes.
Craft producers of the Lviv region will present their unique products in a wide range.
Lviv Taste Fair will be open on May 7 (Sunday) from 11.00 a.m. to 7.00 p.m.

As part of the event, a press conference will be held from 10:00 a.m. to 11:00 a.m. with the participation of the organizers, participants, and partners of the Lviv Taste Fair.

Location: Lviv, 17 Mykoly Kopernyka Street, the courtyard of the Lviv Palace of Arts

Participation in the event is free of charge.

The program of the fair and the press conference will be available soon.

Additional questions: ecoterralviv@gmail.com or by phone: +380970550607

Follow the announcements of the event on the Facebook page of the co-organizer: https://www.facebook.com/ecoterralviv/
Organizer of the event: Lviv Regional State Administration
Co-organizers of the event: Lviv city non-governmental organization "Ecoterra", the ProCheese cheese connoisseur community
Under the patronage of: Ministry of Agrarian Policy and Food of Ukraine
This event is supported by Switzerland within the framework of the Swiss-Ukrainian Program "Higher Value Added Trade from the Organic and Dairy Sector in Ukraine" implemented by the Research Institute of Organic Agriculture (FiBL, Switzerland) in partnership with SAFOSO AG (Switzerland), www.qftp.org.
Media partner: OrganicInfo.ua