Publication date: 2020/11/27
On November 26, 2020, the VII International Conference "Organic Processing and Trade 2020" was successfully held. The event was held online for the first time and brought together more than 100 participants, including government officials, certification bodies, producers and processors of organic and inorganic products and companies that intend to implement processing to increase the added value of their product. The event was organized by Organic Ukraine Non-Governmental Organisation of Producers of Organic Certified Products and Organic Standard Ltd under the patronage of the Ministry for Development of Economy, Trade and Agriculture of Ukraine.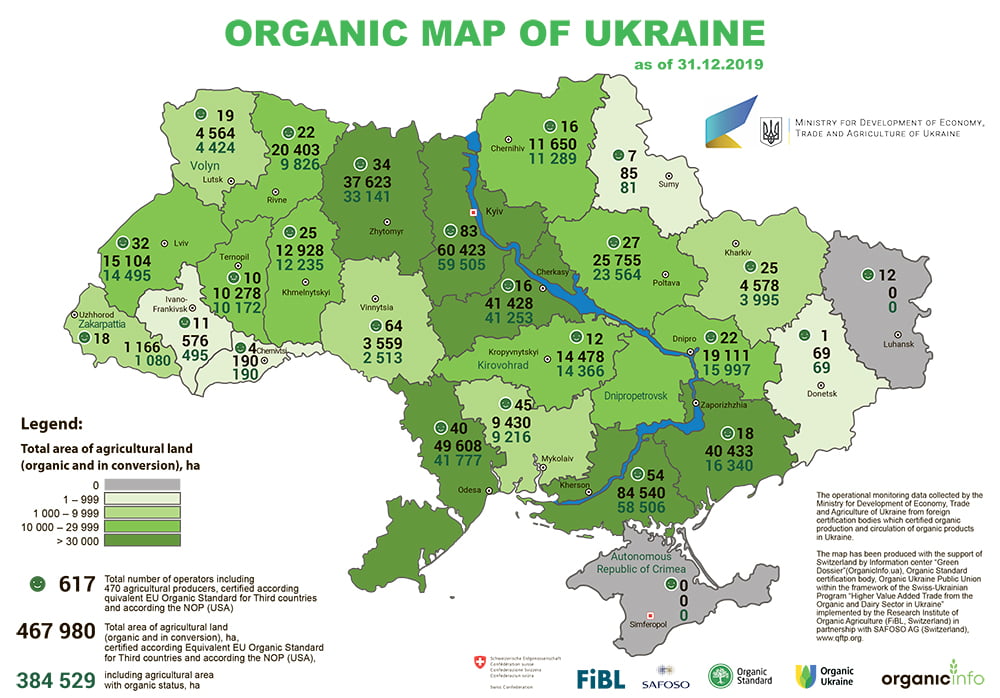 As part of the event, the Organic Map of Ukraine was presented. It was created on the basis of operational monitoring of organic lands as of December 31, 2019.
According to the results of 2019, we can see an increase in the area of agricultural land occupied by organic production. In 2018, the area of land with organic and transitional status was 309,100 hectares, and in 2019 it is already 467,980 hectares. Data were collected by the Ministry for Development of Economy, Trade and Agriculture of Ukraine from foreign certification bodies that certified organic production and circulation of organic products in Ukraine in 2019.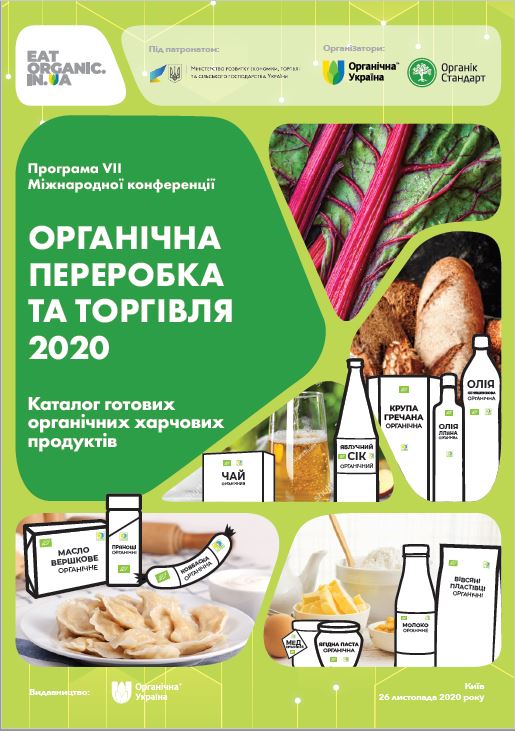 In 2020, the number of operators of organic production in Ukraine increased by 17%, the number of processors of organic products increased by 33%, the number of producers who already have a labeled organic product in the offer for the final consumer increased by 7%. Of the 722 operators of the organic market, which are registered as of November 2020, 114 have processing as a type of certified activity, of which 64 operators package products for the shelf. The number has significantly increased, the directions of organic processing and finishing have stabilized – in 2020 this indicator of 24 categories, compared to last year, increased by 60%.
More information on which Ukrainian-made organic products, including novelties, are sold on the shelves of Ukrainian stores, supermarkets and online, as well as current analytical data on the domestic organic market and exports from Ukraine can be found in the Catalog of Prepared Organic Foods, that was developed by organizers before the event.
Visit the information portal OrganicInfo to keep abreast of the news of the organic market of Ukraine and the world.
You can get acquainted with the program and speakers of the event on the organizer's website.
This event was supported by Switzerland within the framework of the Swiss-Ukrainian Program "Higher Value Added Trade from the Organic and Dairy Sector in Ukraine" implemented by the Research Institute of Organic Agriculture (FiBL, Switzerland) in partnership with SAFOSO AG (Switzerland).