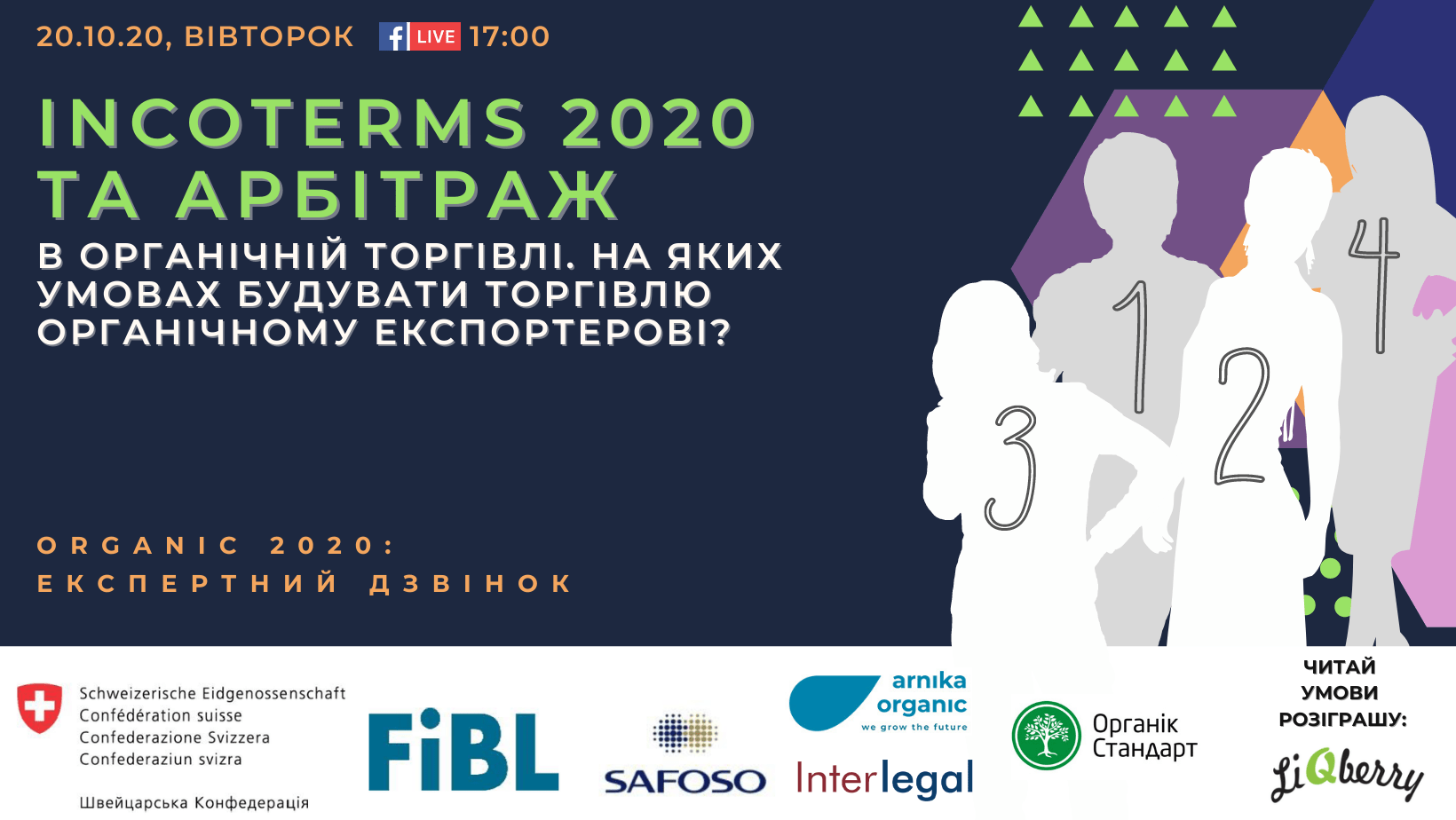 INCOTERMS 2020 and arbitration in organic trade. Under what conditions to build trade in an organic exporter? Expert calls online Organic 2020
The next expert call, on Tuesday, October  20 at 5 p.m., is dedicated to the topic: INCOTERMS 2020 and arbitration in organic trade. On what terms to build trade for an organic exporter?
How do the new Incoterms 2020 bases differ from the previous ones?

Which cases are most often encountered by the certification body?

How to take into account all the risks when supplying organic products abroad and build a relationship of trust with your importer?

What is arbitration?

What to do if it is impossible to resolve a dispute over a contract only through negotiations that lead to a stalemate?
These and other questions will be revealed by our guest experts:
Iryna Yakimovska – lawyer of the International Legal Service Interlegal. Interlegal Law Firm has been practicing in the fields of Transport, Shipping and International Trade since 1995. The company is proud that with its participation more than 70% of problematic situations end in pre-trial settlement.

Victoria Vasylchenko – head of the foreign economic activity of the company Arnica Organic. Arnica Organic is a manufacturer and exporter of home-grown organic products, certified according to international, national and private legal standards of organic production. The company is one of the leaders in the export of organic products from Ukraine and supplies its own organic products to more than 15 countries by various modes of transport.


Yulia Galashevska – Head of Export Department, Organic Standard Ltd. The first Ukrainian certification body to inspect and certify organic production. Organic Standard Ltd. was was established within the framework of the Ukrainian-Swiss project "Organic Certification and Market Development in Ukraine" in 2007. Currently, the company carries out certification in all regions of Ukraine and in the Republic of Belarus, in addition, conducts inspections in Kazakhstan in partnership with international certification bodies.


Moderator – Mariia Makhnovets, consulting for organic business
Join a series of expert calls online.

Learn how to improve organic trade.

Support small producers, and

Win organic delicacies from the Ukrainian producer!